Why Auto Accident Victims Need to See a Chiropractor
Why Auto Accident Victims Need to See a Chiropractor
Written By Chiropractic USA on July 22, 2021
---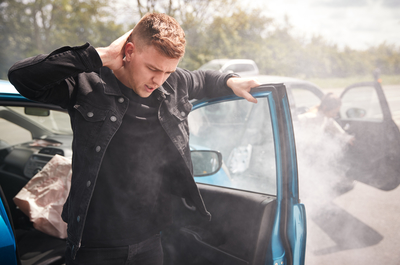 There are chiropractors, and then there are auto accident injury chiropractors. We're the latter at Chiropractic USA in Santa Clara, meaning we have over 17 years of experience in treating auto accident injuries and helping with related claim paperwork. Navigating your injuries and the legal side can be tough. One of the best things you can do is see our chiropractors. We're here to help.
What Our Santa Clara Chiropractors Do for Auto Accident Injuries
Even if you don't think you have injuries worth a doctor's time, please come see us. Auto accident injuries tend to start off invisible due to either the stress induced adrenaline rush or the nature of an injury.
For example, pain from whiplash, the most common auto accident injury, can take up to a few days to manifest as inflammation and swelling builds. Joint pain and a misalignment in your spine can take up to months to appear, too, as your body spends day after day moving differently to protect a problem area.
Our Chiropractic USA team will perform a thorough examination to spot invisible injuries. If you don't exhibit any obvious signs of injury, we'll give you red flags to watch out for over a set timeframe.
When you do have an injury, our various drug-free treatment methods, including spinal decompression and myofascial therapy, can benefit your health in multiple ways.
Your body's natural reaction to soft tissue injuries is to form scar tissue to protect it. This turns into stiffness, loss of range of motion, and can be painful. Chiropractic care can help remove scar tissue, which eliminates related symptoms.
Inflammation is another way your body protects itself, and it's also part of the healing process. However, depending on the severity of your injuries, your injury site can get too inflamed or stay inflamed for so long that it does more harm than good. Our chiropractors will help your body get out of inflamed state and into healing mode.
The bottom line is chiropractic care works to help prevent future pain, get you out of pain as soon as possible, and speed the healing process.
Chiropractic USA also helps you navigate the paperwork for those who have a claim. It's critical to get everything down on paper as soon as possible so insurance companies won't give you a hard time and your claim will hold up better in court.
Receive Quality Chiropractic Care in Santa Clara
Dr. Fataneh Hooshdran's main objective is detecting and correcting musculoskeletal areas of the body that are functioning improperly. Her patients receive therapy designed to ease pain and improve their health. Dr. Fatenah will treat you with concern, compassion, and respect. She's a caring doctor who will work with you to relieve your problem and help you keep it from recurring.
Have questions or need to schedule an appointment? Give us a call at (408) 244-7677 or go online and fill out our contact form.

Posted In: Chiropractic Auto Accident Treatment Whiplash Treatment