5 Benefits of Seeing a Chiropractor
5 Benefits of Seeing a Chiropractor
Written By Chiropractic USA on June 22, 2021
---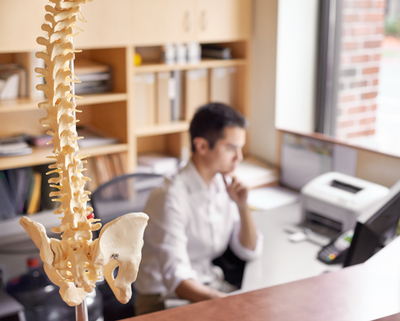 Chiropractic care can help with pain relief in many ways; not just your back. Our chiropractors at Chiropractic USA are experts in the musculoskeletal system and working with your body to provide pain relief without drugs or surgery.
Out of the countless health benefits, here are what we believe to be the top five benefits of seeing a chiropractor:
Relieves back pain
Helps with headaches and migraines
Relieves joint pain
Speeds injury recovery
Boosts athletic performance
Chiropractic Care Helps Relieve Back Pain
Quite possibly the number one reason anyone reaches out to a chiropractor for help is back pain. Chiropractors treat over 35 million Americans every year, approximately 27 million of them for back pain. And yes, we chiropractors get to brag about our care being more effective at treating lower back pain than popping anti-inflammatory pills, according to studies like this one.
After thorough evaluation to identify the root cause of your back pain, we can help your body get out of pain by applying appropriate spinal manipulation techniques that create more space for discs, promote blood flow, relax tight muscles, and take pressure off agitated nerves.
Chiropractic Care Helps With Headaches And Migraines
One of the top reasons people develop headaches is due to poor posture. Inflammation is often the culprit in chronic headache cases. Whenever the cause is physiological, like inflammation and posture, chiropractors can help ease the tension pressing on nerves and provide spinal manipulations where appropriate to help promote better posture. We can also evaluate your lifestyle and coach you through adjustments that'll help protect you from headaches.
Chiropractic Care Helps Relieve Joint Pain
Another super common reason patients come to us is joint pain. The International Association for the Study of Pain estimates over 52 million American adults suffer from joint pain, over 22 million of them due to arthritis. These numbers get worse year over year, making it painfully obvious that anti-inflammatories and similar forms of treatment aren't working.
Our chiropractic care, however, gets to the root of your joint pain so you can hopefully get rid of it for good. We utilize various chiropractic techniques to reduce strain on your joints and improve range of motion, which spells joint pain relief.
Chiropractic Care Helps Speed Injury Recovery
Chiropractic USA is deeply experienced in treating auto accidents and sports injuries. Injuries, like whiplash and sprains, are soft tissue in nature. Said injuries benefit from chiropractic care that reduces swelling and inflammation, and helps restore range of motion.
Without proper care, your body can alter the way it moves to protect an injury site, which throws your body out of balance. With proper care, you can speed the healing process.
Chiropractic Care Helps Boost Athletic Performance
Professional college and even high school sports teams all over the world have team chiropractors. What we do is help the body stay in alignment, keep muscles loose, help optimize blood flow, and help with strengthening exercises. Athletes also can recover faster from injury and reduce wear and tear from repetitive motions.
Receive Quality Chiropractic Care in Santa Clara
Dr. Fataneh Hooshdran's main objective is detecting and correcting musculoskeletal areas of the body that are functioning improperly. Her patients receive therapy designed to ease pain and improve their health. Dr. Fatenah will treat you with concern, compassion ,and respect. She's a caring doctor who will work with you to relieve your problem and help you keep it from recurring.
Have questions or need to schedule an appointment? Give us a call at (408) 244-7677 or go online and fill out our contact form.

Posted In: Chiropractic Natural Pain Treatment