7 Signs You May Have Whiplash and How a Chiropractor Can Help
7 Signs You May Have Whiplash and How a Chiropractor Can Help
Written By Chiropractic USA on October 27, 2020
---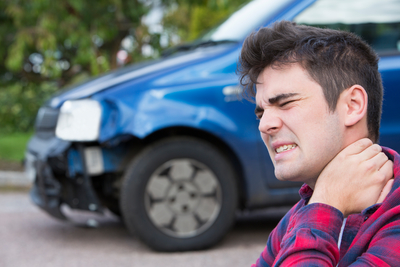 An estimated one million Americans are diagnosed with whiplash every year. This car accident injury often results from rear-end collisions, occurring when the head jerks forward suddenly and then snaps back into place. This leads to spinal misalignment and damages the surrounding soft tissues in the neck.
Unfortunately, many people fail to seek whiplash treatment because they don't recognize the symptoms.
Find out how to identify the signs and how a car accident chiropractor can help below.
7 Signs of Whiplash
Whiplash symptoms don't always appear immediately after an accident. They may take hours or even days to develop. Here are some common indications of whiplash:
Pain and tightness in the neck, often worsening with movement.
Headaches, often radiating from the base of the skull towards the forehead.
Loss of motion in the head and/or neck. You may have trouble looking over your shoulder.
Tenderness or pain in the shoulder and upper back.
Tingling and numbness in the arms.
Dizziness.
Fatigue.
Less-common indicators of whiplash include blurred vision, ringing in the ears, irritability, and difficulty concentrating. If you notice any of these signs, see a chiropractor.
Why You Should See a Chiropractor for Whiplash
Even if you feel fine right after a car accident, it's smart to see a doctor. Whiplash – and other, more serious injuries like concussion – may take days to show signs. A medical professional will identify problems before you even notice symptoms, allowing for fast treatment and sparing you needless pain.
A chiropractor offers non-invasive, drug-free treatment options. Spinal decompression, for instance, properly realigns the vertebrae, while myofascial therapy increases circulation and reduces inflammation in the soft tissues. Studies indicate that such proactive mobilization decreases pain in whiplash patients.
Whiplash Treatment at Chiropractic USA in Santa Clara
Dr. Fataneh Hooshdaran, D.C of Chiropractic USA offers comprehensive whiplash treatments to promote efficient healing. A graduate of Palmer College of Chiropractic in San Jose, she established her Santa Clara, CA, practice in 2004. Since then, she has helped countless patients in their recovery journeys.
Get whiplash treatment now and get your life back on track. Schedule an appointment today or call our office at (408) 244-7677.

Posted In: Chiropractic Auto Accident Treatment Whiplash Treatment